One of my more recent Creations and Launches of a truly Parisian 'parfum'.
Fifi is one of Paris' leading lingerie designers with three stores in the middle of Paris and export sales worldwide. Even with the explosion in lingerie sales, it took 2 years to convince her that it was time for her to launch her first fragrance.
Fifi always loved the perfumes created by perfumer Jean Guichard at Givaudan, so it was no surprise that he was the 'nose' who won the brief.
The story behind the bottle cannot be revealed but they are made in the hand-made non-industrialised style of the past. Light and delicate, unlike most bottles today and encased in high quality boxes, just as good chocolates are. Strange that most perfumes are sold in cheap boxes.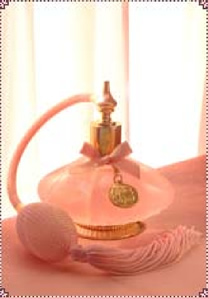 To keep the brand luxury and exclusive, Fifi cut back production and Christmas orders for Space NK, Barneys and Henri Bendel were declined. Maybe that's what true luxury and exclusivity are about?
The Brand has since been taken over by a division of L'Oreal see video here